L&L Fuego with Quad Elements
Back
L&L Fuego with Quad Elements
Brand: L&L Kilns USA
Fuego "Plug and Go" Kiln with Quad Elements230volt 1phase 13amp plug and go kilnInternal dimensions ...
Fuego "Plug and Go" Kiln with Quad Elements
230volt 1phase 13amp plug and go kiln
Internal dimensions 33cm (13")dia x 45.7cm (18")high
External dimensions 55.9cm wide X 68.6cm deep x 78.7cm high
40litres 1.4cf
3.0kW 13.1amps
1290°C
Shipping weight 63Kg

Potclays are the exclusive importers to the British Isles for L&L Kilns who are one of the leading builders of craft and industrial kilns in the USA. The scale of their top loader operation enables high quality kilns at competitive prices and the present currency exchange rate ensures their unbeatable value. The hardened clay element holders are a major feature of all the L&L kilns we sell. They protect delicate brickwork and improve heat transmission. Patened by L&L they are exclusive to L&L. Other features of all L&L kilns are Designed for easy maintenance; high specification controllers; reversible base to extend life if damaged by glaze.

Photographs are for illustrative purposes only
Does not include the Fuego furniture set.
Features
Quad Elements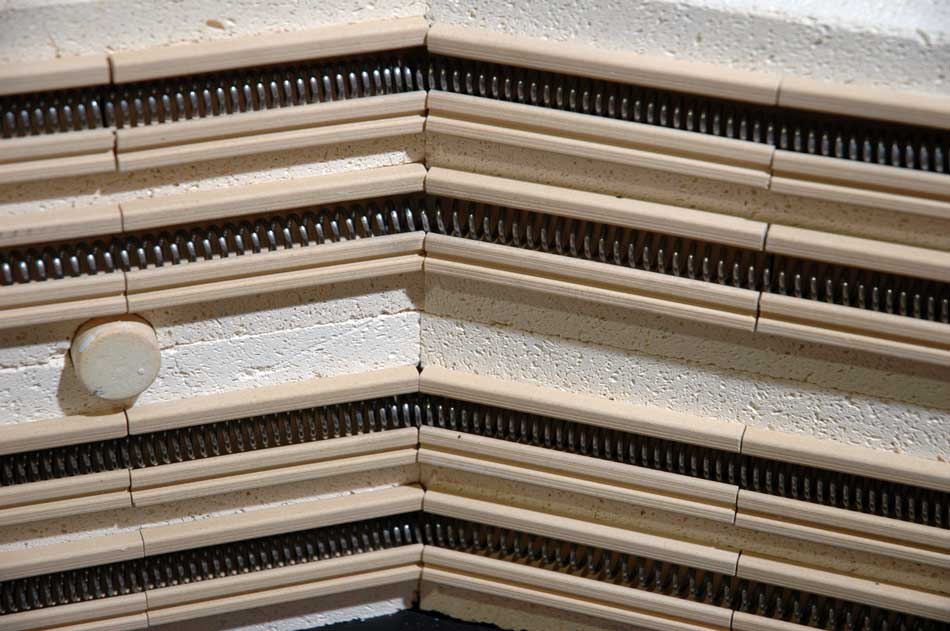 Large Diameter Elements With Thick Wire And Lower Watt Density
The Quad element system provides four rows of elements in one 9" high section.
The combination of our large 1/2" diameter element coils (most non-L&L elements are only 1/3" in diameter), the doubled surface area of the Quad element design, and superior heat transfer of L&L's patented ceramic element holders, make this the best element system in the world today.
Used on our JH Series kilns for several years now - under the rigorous conditions of high temperature crystalline glaze firing - element life of over 130 firings with standard A-1 alloy have been normal. In another example, on an eQuad-Pro, with three sets of elements being used, one customer got 232 firings to Cone 5 per element set.
Increased surface area of our Quad element system results in more even firings.
Quad elements are more cost effective than APM elements for high-fire work. Combine Quad and APM for the ultimate in element life.
Performance

Thermal Ceramics Firebrick
K23 firebrick combines good insulation with strength
Durability

Hard Ceramic Element Holders Make L&L Kilns More Durable
Durability, Repairability, Better Heat Transfer

Thermocouple Protection Tubes
Mullite protection tubes extend thermocouple life and keep kiln clean

Solid Super-Strong Aluminized Steel Stand
Aluminized stands are extremely strong and corrosion resistant.

Thick 8 Gauge Thermocouples
Thick 8 gauge thermocouples last a long time.

Proprietary Reflective Coating Hardens & Seals Brick
Special brick coating hardens and seals brick for durability and cleaner operation.

Stainless Clips Secure Lids to Bands
Stainless Steel clips help the lid stay secure and durable.

Corrosion Resistant Case
Corrosion resistant materials and methods result in a long-lasting kiln.

Redundant Case Clamps
Three case clamps are redundant safety for your L&L kiln.
Ease of Use
One-Touch™ Intuitive Kiln Control (School-Master, Liberty-Belle, Doll)
Four-Key Control that Redefines Simplicity • Perfect for Schools & Hobbyists

Solid Wide-View Peephole Plugs
Solid large non-tapered peepholes allow a wider view into the kiln.

Simple Strong Hinge with Wide-Angle Opening This is used on top-loading kilns that are 8 sided or less
Support

Superior Technical Support
The combined experience at L&L Kilns in kilns, ceramics, electrical engineering and process engineering is unsurpassed. We work as a team to help you get you answers and help.

Standard Three-Year Limited Warranty
Most L&L Kilns have a three-year limited warranty.
Serviceability

Molded Ceramic Industrial-Grade Element Connection Blocks
Industrial grade ceramic terminal blocks make changing elements easy.

Sectional Kiln Construction for Liberty-Belle and Similar Kilns
Sectional kiln construction makes kilns easy to move, set up and disassemble for maintenance.

Reversible Bottoms
The bottom can be easily reversed in case of a firing mishap.
Safety

On-Off Switch and Panel Fuse
All L&L Kilns come with an on-off switch
| | |
| --- | --- |
| Volumetric weight: | 999.000 |