The Potclays Limited Group of Companies
Founded in 1932, the Potclays Group presently comprises the parent company, Potclays Limited, and its subsidiary The Potters Clay & Coal Co. Ltd.
Several other companies have been merged into the group during its history including Forward Transport Ltd. in the 1940s, Midland Firm Services Ltd. in the 1950s, Harry Fraser Ltd. in 1976, H&L Kilns Ltd in 1983, Claytec (UK) Ltd in 1986 and D.J.Shaw in 1992. The group is a relatively small one currently employing around 35 people (2019).
We operate from two sites: Brownhills (near Walsall, South Staffordshire) and Stoke-on-Trent. The Potters Clay & Coal Co. Ltd, which is the oldest member of the Group, still operates from the original site named Swan Works, where it was founded in 1932 and where all of our buff and red clay bodies are produced. Potclays Ltd. is based at Albion Works in Etruria, Stoke-on-Trent which houses our warehousing, showrooms and main offices as well as our manufacturing facilities for clays, glaze and kilns.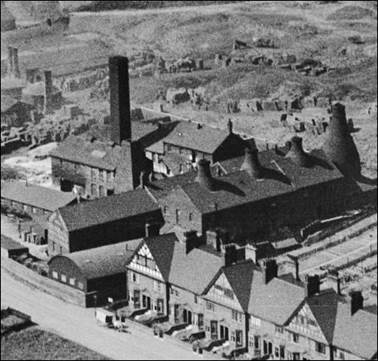 Click here to learn more about the history of the company
85 years old - click here to read the story

Credit to: Izzy Letty izzylettyceramics.com
Potclays Ltd
After more than 87 years in the clay business and with over 50 years in the service of the studio pottery and education communities we have become one of the best known names in our market. Our family company is now in its fourth generation and therefore heritage is very important to us and so is our place in the wider ceramic community. Our products are distributed throughout the UK, Europe and worldwide.
Our premium-quality clay bodies have a worldwide reputation, especially our unrivalled panmilled bodies which are manufactured using traditional machinery and a process unique within the industry. We have a highly qualified and experienced team of engineers building top-quality kilns for hobby, educational and industrial use.
We are in the privileged position of being the only authorised importers into the UK for Shimpo & L&L Kilns. We also hold a number of other distributorships including Mayco, Spectrum, Botz, North Star Equipment, Giffin Grip, GR Forms and Mudtools to name just a few.
Other brands we supply include Kemper Tools, Xiem Tools, Paintec & Ohaus Scales & Balances. For a full list please view our brands page.

Our Mission
We're passionate about keeping the craft of ceramics alive. Studio ceramics is coming under increasing threat with its neglect in the education syllabus at primary and secondary levels, whilst further and higher education courses are quietly dropped or subsumed into other disciplines. Our involvement in the promotion of ceramics within education has grown as the need to protect and nurture the subject has intensified. We have an unspoken but deep understanding that we should do everything in our power to promote the role of ceramics in our schools, colleges and universities as well as in the wider community. We hope that our efforts to provide a comprehensive programme of courses and workshops each year will go some way to ensuring the survival of this discipline in the years to come.
Potclays Kilns
Potclays is a specialist kiln manufacturer and we make a wide variety of high quality electric and gas fired kilns for ceramics and other heat treatment processes. These range in size from around 12 litres (0.4cu.ft) chamber capacity mini-kilns to truck kilns of over 2 cu.metres (70cu.ft) capacity. Many of these are specially built to customers' requirements. We also manufacture elements to fit most makes of kiln.
Paint Your Own Pottery Supplies
Potclays is one of the largest Paint-Your-Own-Pottery (PYOP) suppliers in the UK and is expanding overseas too. We supply a huge range of brush-on glazes, stains, colours, plaster moulds and bisque ware from several sources including US market leaders such as L&L Kilns, Mayco & Bisque Imports. We also supply a wide range of affordable and high-quality brushes from Mayco and Royal & Langnickel. Our high quality 'Potclays White' casting slip is manufactured at our factory in Stoke-on-Trent. We run PYOP teachers' certification programs and hands-on courses for all skill levels, from beginner to expert. Many of our courses are run with the generous support of Mayco Colors, enabling us to charge low course fees.
The Potters Clay and Coal Company
The fireclays from our PCC clay mines are exceptionally plastic and also pale-burning. Consequently, they are used in pottery, brick, tile and vitreous china bodies as a part replacement for more expensive ball clays. We also supply sealant clays for lakes and waterways and other civil engeering projects. Our puddle clay was used in the construction of parts of the M6 motorway, notably Spaghetti Junction, and most recently by the Lichfield & Hatherton Canals Restoration Trust.